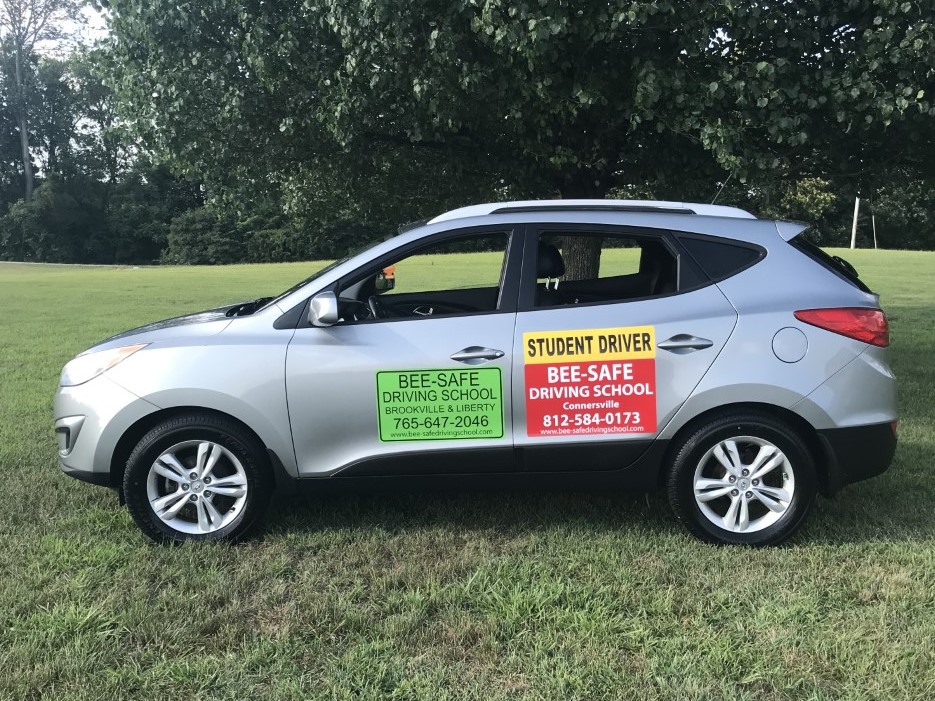 BEE-SAFE DRIVING SCHOOL
BROOKVILLE INDIANA
June 5th Class Session
Welcome to Bee Safe Driving School,
We would like to take this opportunity to give you some information about our local driving school. Instructor Steve Wewe was the founder and owner of Bee-Safe Driving school, with 33 years of experience. We are starting our 18th year at the Bee-Safe Driving School this fall teaching students from Franklin, Fayette, and Union Counties. On June 1st, 2022, the driving school was sold and purchased by two Brookville Police Officers. Assistant Chief of Police Michael Strait and former Sergeant Samuel Williams with the Brookville Police Department are the new owners. Both Strait and Williams are Indiana-certified driving educational instructors through the Indiana Bureau of Motor Vehicles. The new owners have been teaching and instructing students since the Spring of 2022. Steve Wewe will continue to be an instructor along with Mr. Brice Sayne and Mr. Mike Reister. Last year, Bee-Safe taught over 250 students. We take great pride and dedication to make this the best driving school in South Eastern Indiana. This will be an excellent, well-organized, and structured program for your student. Again, we strive to be FLEXIBLE and CONVENIENT for both students and parents.
The Bee-Safe classroom and office is located at 290 Webers Lane, Brookville, IN 47012.
We will have an in-person parent informational meeting on Thursday, May 25th, at 5:00 pm or 6:00 pm for the parents and students, you may choose your time slot. If the student can't attend the meeting that is okay, it is more important that a parent attend. We will go over the classroom and driving schedules and all the driving laws pertaining to student drivers. The CDE forms will also be given out so students can get their learner's permit, (you must have this form to get your permit). This meeting will take place at the Bee-Safe building in Brookville. If you miss the meeting, you can register the first day of class on June 5th.
Please fill out, sign the contract, and return it with the registration form. In the" Driving Partner" section, please list any neighbor or friend you would like to do the in car driving instruction with. Include yourself as one of the drivers. A deposit check of $ 220.00 is required, please mail these forms and check in the self-addressed envelope to Bee-Safe. Registration will be open until the first day of class.
Make the check payable to: Bee-Safe Driving School. You may register at the meeting.
Any questions, please call:
Mike Strait (Cell) 765-580-2456 OR Samuel Williams (Cell) 513-490-4118
Office: 765-647-2046
Email: [email protected]
Website: www.bee-safedrivingschool.com
GENERAL INFORMATION
The cost of the course will be:                    $ 440.00 (optional payment plans)
The deposit due with contract:                   $ 220.00
Student Age requirement                            15 by the start of class 
The classroom hours will be:                       30 hrs.
The driving hours will be:                             6 hrs.
 BEE-SAFE DRIVING SCHOOL
BROOKVILLE SCHEDULE JUNE 2023
PARENT MEETING: THURSDAY, MAY 25th at 5:00 P.M. or 6:00 P.M
LOCATION:  BEE-SAFE DRIVING SCHOOL BUILDING 
290 WEBERS LANE 
BROOKVILLE, IN 47012 
CLASSROOM DATES:
MONDAY                  JUNE     5
TUESDAY                 JUNE     6
WEDNESDAY           JUNE     7
THURSDAY              JUNE     8
FRIDAY                     JUNE     9
MONDAY                  JUNE   12
TUESDAY                 JUNE   13
WEDNESDAY           JUNE   14
THURSDAY              JUNE   15
FRIDAY                     JUNE   16
*** IF YOU MISS A CLASS/CLASSES YOU WILL BE ABLE TO MAKE IT UP IN THE NEXT SESSION
CLASS TIME:                      12:00 P.M. TO 3:00 P.M.
DRIVING TIMES:              9:00 a.m. to 12:00 p.m. or 3:00 p.m. to 6:00 p.m.  SEE REGISTRATION FORM.